GENERAL CHARACTER STATISTICS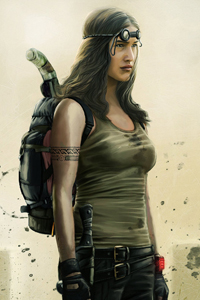 Character Name: Eden
Gender: Female
Species/Race: Human
Age: 26
Birthplace/World:
Occupation/School/Grade: "Temp", her last job was working in shipping and receiving new stuff.
More:
PHYSICAL CHARACTERISTICS
General Appearance: Naturally brown hair, but since she's dyed it blond before hitting this planet, it's only brown to the ears where it's grown out since the dye job. Green eyes. A few freckles. Pretty average body type.
Strengths:
Weaknesses:
More:
MENTAL CHARACTERISTICS
Current Goal/Purpose:
Talents:
Inabilities:
Fears:
General Personality:
Inner Personality:
Secret:
More:
HISTORIC BACKGROUND
General History: Eden and her whole family were a part of the colony project.
Her parents died in stasis before ever waking up.
Her oldest brother died during the colony war.
She, other older brothers, her older sister and her husband, and her little sister did their best to take care of each other after the war ended.
When their supplies were getting low, the Brother-in-Law sold off their little sister without their permission.
Eden and her brother left to go rescue their sister, but it was too late. She was already murdered.
Her older brother came back and got in to a fight with the Brother In law. But the Brother In Law won and killed her brother.
After that, he sister was so filled with grief that she killed herself.
In a rage at losing the family she had left, she killed the Brother In Law.
Afterwards Eden was on her own and tried to hook up with new partners for safety in numbers. But it always turned out in bad experiences.
Present Life:
Special Historic Notes: