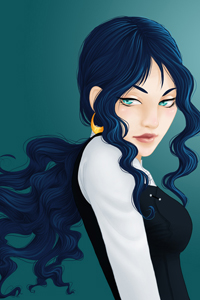 GENERAL CHARACTER STATISTICS
Character Name: Joslyn Integra Uffenstien the III
Gender: Female
Age:
Birthplace/World:
Occupation: Master Wizard of the Penta Order.
PHYSICAL CHARACTERISTICS
General Appearance: Thick dark black hair, ocean green eyes, pale skin and a well toned body. Joslyn finds it a priority to look impressive and important. Her clothing would normally consist of the black and navy robes of a master wizard, or an all black ensemble of pants and corset covered with a long navy-trimmed coat. A blue triangular gem that is given to all Master Wizards on their succession is pinned over her heart.
Strengths: Joslyn is physically fit and agile.
Weaknesses: She relies heavily on her magic, thus letting her skills in physical combat rust.
MENTAL CHARACTERISTICS
Current Goal/Purpose: To catch and eliminate the demon that escaped from her home world.
Talents:
Inabilities:
Fears:
General Personality:
Inner Personality:
Secret:
More:
HISTORIC BACKGROUND
General History:
Present Life:
Special Historic Notes: