[et_pb_section admin_label="Section" fullwidth="off" specialty="on" transparent_background="off" background_color="#181620″ allow_player_pause="off" inner_shadow="off" parallax="off" parallax_method="off" padding_mobile="off" make_fullwidth="off" use_custom_width="off" width_unit="on" make_equal="off" use_custom_gutter="off" parallax_1="off" parallax_method_1="off" parallax_2="off" parallax_method_2="off"][et_pb_column type="1_2″ specialty_columns="2″][et_pb_row_inner admin_label="Row"][et_pb_column_inner type="4_4″ saved_specialty_column_type="1_2″][et_pb_text admin_label="Text" background_layout="dark" text_orientation="justified" header_font="PT Sans Narrow||||" header_font_size="20px" use_border_color="off" border_color="#ffffff" border_style="solid" module_class="dbio" text_font="PT Sans Narrow||||" text_font_size="20″]
GENERAL CHARACTER STATISTICS
Character Name: Selena
Gender: Female
Age: ???
Birthplace/World:
PHYSICAL CHARACTERISTICS
General Appearance: Long black hair to about mid-back. No bangs. Dark blue eyes. Soft fair skin. Favors dark rich colors and heavy fabrics.
Strengths: Not prone to illness. Has very good stamina.
Weaknesses: Does not have a lot of physical strength.
MENTAL CHARACTERISTICS
Current Goal/Purpose: Have a strong happy marriage with her husband, and take care of their holdings!
Talents: Needlework, puzzles, cooking
Inabilities: Weapons swinging, singing, riding horses.
Fears: Confined and restrictive spaces.
General Personality:
Inner Personality:
Secret:
HISTORIC BACKGROUND
– Has two older brothers? She is the youngest child, and as a daughter her only use was in marrying her off in exchange for resources/political alliances.
– Understanding and accepting of her duties as a princess. She doesn't harbor any resentment or allusions about it. (Though there is always that wistful daydream that things were different.) Hopeful and determined to make her arranged marriage contract a good experience.
– Has a gentle and kind personality, but never has had her patience truly tested. Is uncomfortable with people who are very physical in displaying their anger. Good at swallowing her fear and pushing through something scary. Will maintain a calm appearance (if maybe a little frayed) through stress. Has a subtle command and sense of leadership over others. Being in charge is something that comes natural. Is a romantic, but doesn't believe love is an option for people in power. Her responsibilities always come first, herself second (and sometimes even farther down the list). Knowledgeable in running a household and what it takes to care for the land and the people on it, understands there are dangers in the world, but is incredibly naive about just HOW dangerous. She does not know how daily life outside castle walls actually works. Believes she can talk her way through anything. Can be stubborn and willful to the point of making poor choices. Very soft and apt to believe the best in someone if they know how to work her strings, even if it's painfully obvious there is NO redemption.
[/et_pb_text][/et_pb_column_inner][/et_pb_row_inner][/et_pb_column][et_pb_column type="1_2″][et_pb_text admin_label="Text" background_layout="dark" text_orientation="justified" header_font="PT Sans Narrow||||" header_font_size="20px" use_border_color="off" border_color="#ffffff" border_style="solid" text_font="PT Sans Narrow||||" text_font_size="20″]
CHARACTER ART INSPIRATION – LA BELLE DAME SANS MERCI BY LUCA CRIVELLO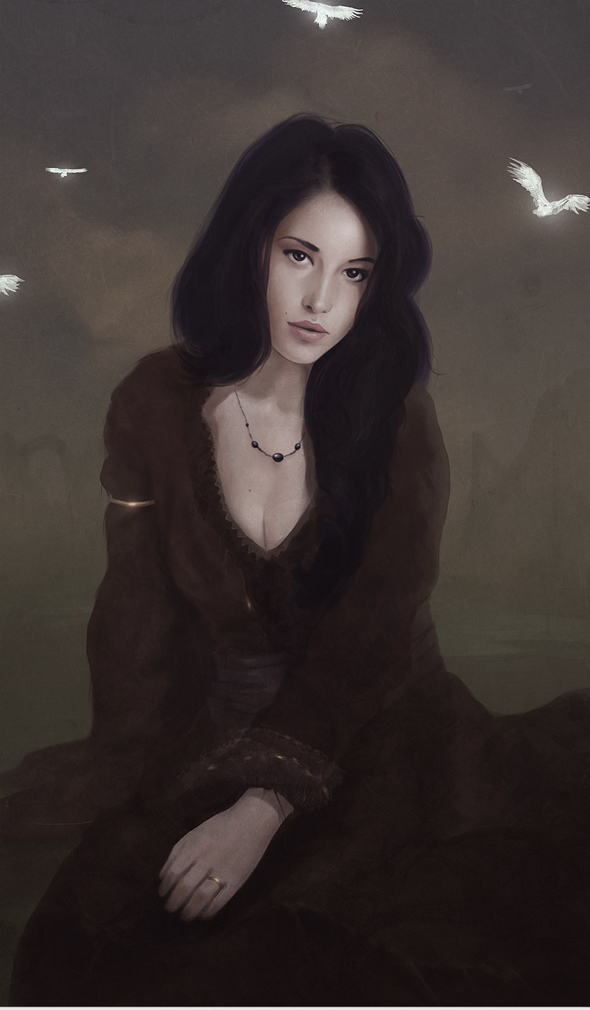 [/et_pb_text][/et_pb_column][/et_pb_section]