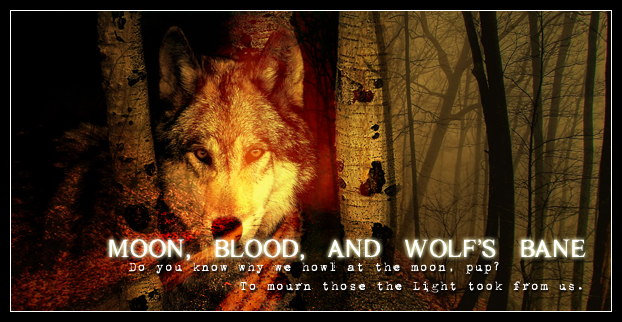 [i]"Do you know why we howl at the moon, pup? To mourn those the Light took from us…"[/i]
[b]Genre:[/b] Modern Fantasy
[b]Location:[/b] Montana
[b]Timeline:[/b] Present Date
[b]Werewolves[/b]
Legend of old states that Darkness blessed a tribe of humans. Ones that welcomed the night and it's creatures, ran with the wolves, and lived their life by loyalty and blood. The gift Darkness bestowed was [i]the change[/i], shifting their blood from that of normal humans to include the gene of the wolves they cherished. They became stronger, with better eyesight and hearing. Healing at a slightly faster rate and only needing to fear the poison of silver reaching their bloodstream. Most notably, an ability to shift from human form to wolf. Their lifespans aren't any longer than the average human.
Called by many names, including lycanthrope or loup-garou, the werewolf struggles to exist in our modern world. Keeping to their own clans and laws, they only mingle with the humans when necessary. Over the centuries many myth and legend were told of the werewolves. True or false, human kind feared these creatures and chose to hunt them. A werewolf may mate with human's if they like that sort of thing, but it's [i]forbidden[/i] to bare their children. They believe [i]The Curse[/i] was born from those unions, thus it is a act punishable by death. If a halfbreed exists, they do not exist for very long. Clans are located all over the world, but numbers have slowly begun to dwindle. The Age of the Were is long gone.
[b]Curse of the Werewolf[/b]
The werewolf curse is what sparked the fear and legend of these beasts going mad with the full moon. It doesn't affect all werewolves, only those infected by it. They believe a clan member fell in love with one from Light's tribes and Light angry with the audacity of these creatures blessed by the Darkness, laid a curse on their children. Come night when the sun reflects off the Full Moon, their blood will boil and their skins will change. Their former beautiful forms will twist and turn ugly. To a wild and chaotic beast that only thirsts for blood. Similar to rabies or other viruses, the [i]curse[/i] can be passed through a bite or blood to were or human. The Curse is impossible to control, thus many clans will ostracize or kill anyone that becomes infected.
[b]THE PLOT[/b]
Geoff Larrow lead his pack as a favored Alpha. But on night he was killed trying to defend clanmates when a few humans realized there were werewolves in their midst. Someone in the clan had let their secret slip out, by loose tongue, uncontrolled hunting, and attacking humans. The leaderless pack was forced to move or risk having the entire clan's identities discovered. They bought new property in Montana near small but bustling little vacation town called Raymond. For year they lived, but without a leader the young weres became restless and out of control. This time they drew attention to themselves not just by humans, but by Hunters. To make matters worse, one of their pack committed the worse of sins – getting a human pregnant. The Council of Weres sent agents to "get rid of the problem". Before the pack could sneak out of town, most of it's members were slaughtered.
[b]Come to present date…[/b]
For the past five years, those that managed to survive the pack's genocide have lived scattered and on the run. Now, word is being sent out that Saraliya Stonelake has procured new land in Canada and a new safe home for those that wish to return or join their pack. She is Alpha. They will not run any more. All those that pledge loyalty to their pack will be protected. And after a promise she made… it includes the five year old half-were child that shouldn't exist.
Saraliya intends to make a stand. Glendon, Canada will belong to her pack come hell or highwater. Yet, she is unaware of just how big of a fight they are going to get…
[b]SETTING, CHARACTERS AND JOINING[/b]
Glendon, Canada is a northern village in the Alberta providence. It boats a whopping less than 500 population, many of which are already refugee or packless weres now pledged in to Saraliya's command. It's cold here, even though it's the summer months. Humans do not believe in werewolves, however Glendon natives have their legends, since there has always been a were presence in this town. It's why Saraliya chose it to be their home. There are no vampires or other races, and there is no magic in this roleplay.